Barracuda Email Threat Scanner

Detect email threats that already exist within your email environment
Understanding the Threat
According to FBI, business email compromise (BEC) scams were responsible for $12.5 billion in reported losses since 2013.
These highly personalized attacks happen in a much smaller volume than traditional phishing, and typically they do not contain malicious attachments or links. Because of this, they can be very difficult to detect using existing email security solutions.
Secure email gateways can help, but there are thousands of threats that can easily bypass standard email filters. As a result, your email inboxes almost certainly contain dormant threats that could cost you time, money, and resources with just a single distracted click.
Don't guess how many of these dormant threats are in your inboxes. Find out for sure.
Over 95% of Office 365 mailboxes harbor malicious emails.
Many of these email threats stealthily slip past the email gateway. Threats like ransomware, spear phishing, and account takeover put your organization and employees at significant risk. In fact, undetected email threats cost businesses over $300 million per month.
Find out what's hiding in your inbox.
It's critical to assess and understand your email security vulnerabilities. Using artificial intelligence and API integration with Office 365, the Barracuda Email Threat Scanner quickly and effectively finds social engineering attacks currently sitting in your mailboxes.
How Barracuda Networks Can Help
Barracuda Email Threat Scanner is a free online service that scans all your Office 365 emails and identifies these dormant threats without any impact on your system's performance. Use it to:
Find spear phishing, account takeover, business email compromise, impersonation, and other cyber fraud attacks that impersonate trusted senders and are designed to trick employees into clicking on a malicious link, sharing confidential information, or even wiring money to the attacker
Prevent domain fraud by identifying domains that are at risk of spoofing and other fraud
Identify high-risk employees who are most likely to be targeted by spear phishing and business email compromise attacks
Detect email threats that already exist with within your email environment
Detect email threats that got past your email gateway.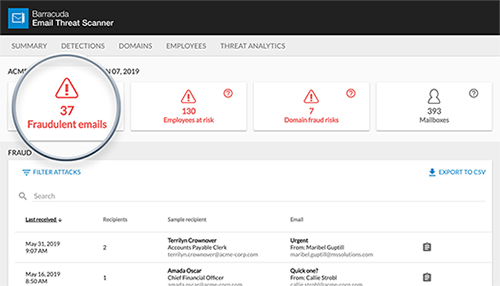 Fraud summary
Our artificial intelligence platform understands email sender intent to detect anomalies such as email impersonation and account takeover.
Risk summary
Discover social engineering attacks like CEO fraud, impersonation, and blackmail attacks that can cause havoc.
---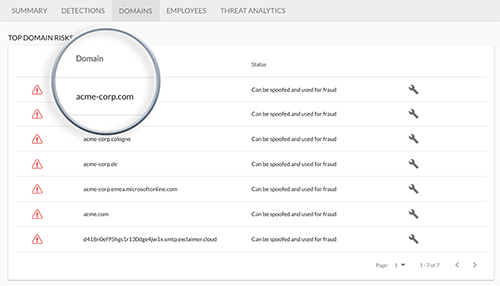 Domains at risk
Find domains that are not protected by DMARC and can be used to send fraudulent emails.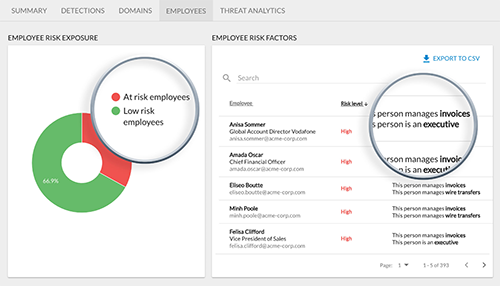 Employees at risk
Gain visibility into which employees are most susceptible to attacks and risk factors.
---
Threat analytics
Understand predominant threats and popular tactics used in fraudulent emails.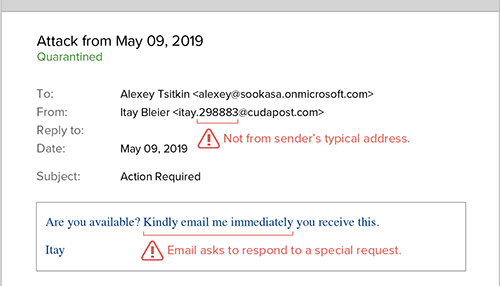 Spot phishing emails that gateways can't.
Phishing emails can hide in plain sight, and Barracuda Email Threat Scanner will find them.
---
Barracuda Technical Moment | Email Threat Scanner for Office 365
---
Run a FREE Email Threat Scan
Run your FREE Email Threat Scan today. Discover how exposed you are to new threats, and reveal the fraudulent emails already in your mail system.
Sign Up for a Free Email Threat Scan
How many threats are already in your corporate mail system? Sign up below for a FREE Email Threat Scan that will check not only your exposure to new threats but also scan all of the emails already in your mail system.
Detect and Defeat New Email Fraud Attacks with Barracuda Sentinel
After you use Email Threat Scanner to find dormant threats in your inboxes, take the next step to prevent new fraud attacks from getting in. Barracuda Sentinel combines artificial intelligence, API-based architecture, and brand protection into a comprehensive cloud-based solution that guards against spear phishing, account takeover, business email compromise, impersonation, and other cyber fraud.