Barracuda Data Inspector

Find sensitive data and undetected malware
Overview:
Get insight into sensitive data
Enjoy easy and intuitive data-security management with no hardware or software. Identify risks at a glance.
Detect malware in SharePoint and OneDrive.
Find and eradicate malware at its source – without the risk of accidental activation.
Support regulatory compliance.
Find existing and new sensitive data, to ensure ongoing compliance, and cut the risks of hefty regulatory fines and reputation damage.
Secure your environment against improperly-stored sensitive data and latent malware
See for yourself how Barracuda Data Inspector automatically scans your OneDrive for Business and SharePoint data for sensitive information and malicious files.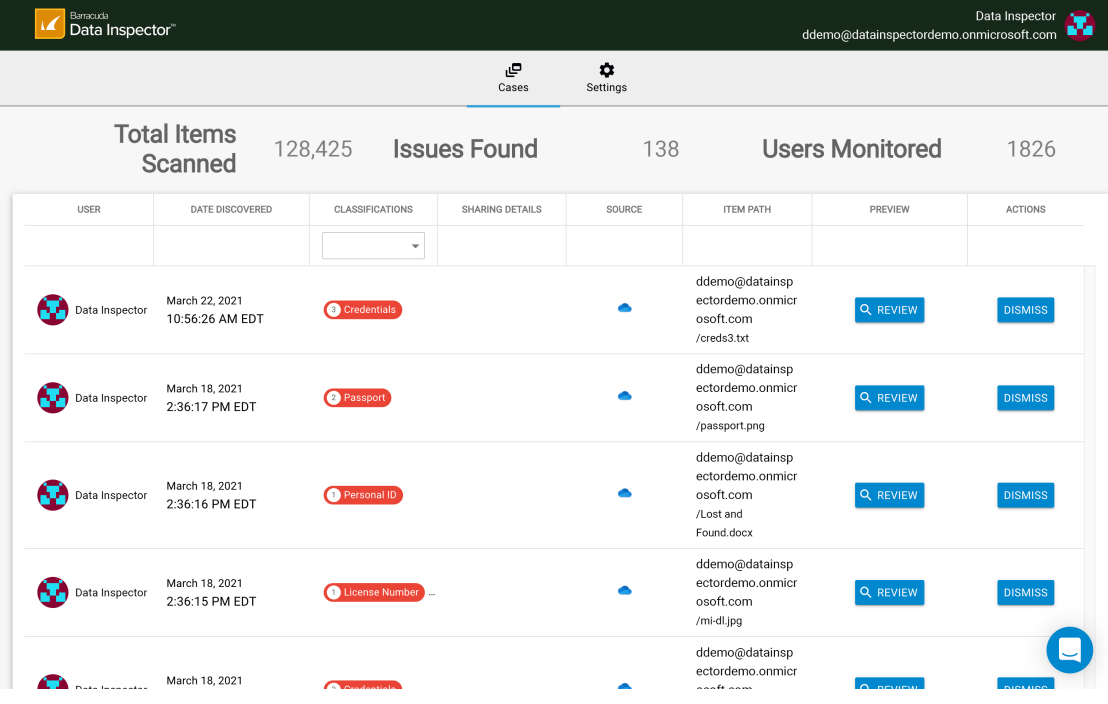 Insight into what sensitive data has been found
Barracuda Data Inspector provides simple and intuitive datasecurity management with no extra infrastructure or installation. See exactly what kind of data has been found, whether it has been shared and where it is located so you can decide what needs to be done. Data Inspector can even identify sensitive information from photos, screen shots and documents scans.
Malware detection in SharePoint and OneDrive
With Barracuda Data Inspector, you can identify malware stored in SharePoint and OneDrive and eradicate it at the source. This helps prevent accidental activations that can lead to ransomware or other attacks.
Regulatory compliance support
Barracuda Data Inspector lets you spot sensitive data as soon as it appears in OneDrive or SharePoint. Use it to develop policies that comply with GDPR, CCPA, and other data privacy regulations. You can further reduce your risk by improving end-user security awareness, with automated notifications whenever users attempt to store sensitive data on OneDrive or SharePoint.