Barracuda CloudGen WAN VT3000

The Global Secure SD-WAN Service Built Natively on Azure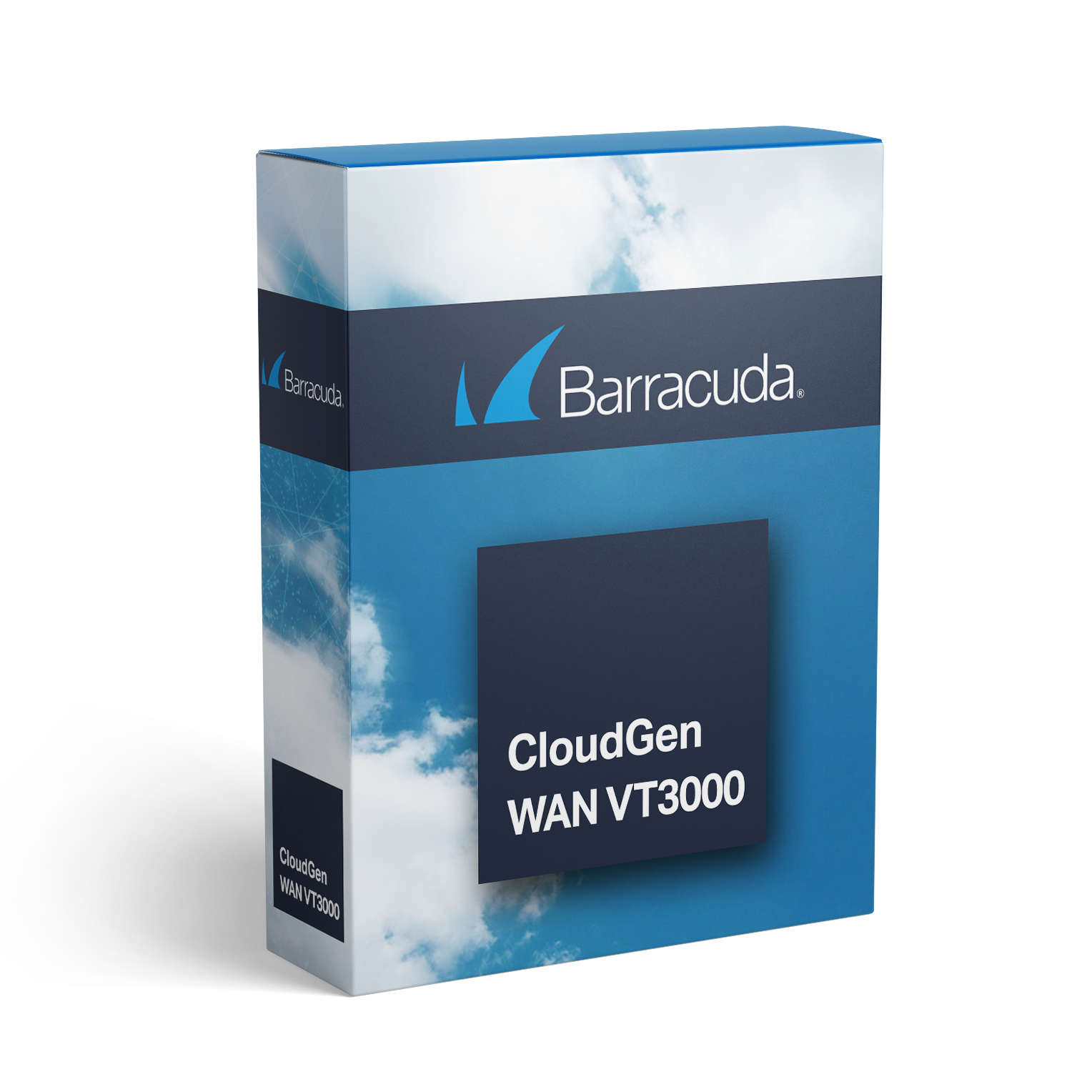 Sorry, this product is no longer available, please contact us for a replacement.
Click here to jump to more pricing!
Barracuda CloudGen WAN VT3000:
Barracuda CloudGen WAN provides easy to use secure SD-WAN and Firewall-asa-Service. Everything is centrally managed from one portal regardless how many users, locations, or cloud services need to be secured and connected.
To harness the power of Microsoft Azure and the Azure Global network it is easily deployed directly from the Azure Marketplace. With Barracuda CloudGen WAN you can create a pragmatic SASE solution on your terms.
Traditional data centers are going away
More than ten percent of organizations have already shut theirs down, and Gartner has predicted that will rise to 80 percent by 2025.

Eliminate costly MPLS leased lines
Get fast, effortless access to the Microsoft Global Network backbone for high-performance site-to-site and site-to-cloud connections.

Deploy to all your sites rapidly and easily
Zero-touch deployment for all CloudGen WAN site devices requires no local expertise. Just plug them in and they self-configure.

Fully leverage all your cloud and SaaS solutions
CloudGen WAN eliminates latency and bandwidth shortfalls that can degrade performance of apps you rely on, such as Office 365.
Easy to establish and maintain
CloudGen WAN works out-of-the-box with smart default configurations for cloud and SaaS applications. The CloudGen WAN management portal provides the most intuitive way to centrally orchestrate SD-WAN connectivity, security, and networking with minimal overhead.
In a nutshell: With Barracuda CloudGen WAN you can deploy, secure and manage a global high performance WAN without the need for specialized SD-WAN or expert enterprise firewall knowledge.
The solution extends SD-WAN connectivity and next-generation firewall security beyond users and office locations. Dedicated Industrial IoT and rugged form factor devices for shop and factory floors extend the pragmatic SASE concept to cover users, sites and things.
True cloud native
CloudGen WAN was built from the ground up as a cloud service to provide secure SD-WAN globally. Unlike other solutions in the market, it was not built as a pure-play SD-WAN with attached security and then moved to cloud.
Running natively as a SaaS service, CloudGen WAN establishes a fast overlay SD-WAN backbone automatically. For even better WAN experience, the solution provides an SDWAN enabled on ramp to the Microsoft Global Network. Other than traditional MPLS or Network-as-a-Service solutions, Barracuda CloudGen WAN provides dynamic sizing of networking and security throughput to match your actual workload requirements
Connectivity and security
CloudGen WAN is based on the security technology of Barracuda CloudGen Firewall. Barracuda's enterprise network firewall is the most secure and most scalable SD-WAN solution available.
CloudGen WAN provides SD-WAN technology formerly only available on dedicated network optimization solutions.
Deploy CloudGen WAN either next to an existing firewall solution or as standalone solution that provides battle-tested network connectivity and security, IPS/ IDS, deep SSL inspection, and Advanced Threat Protection – all built right into the core of the solution.
Pricing Notes:
Please Note: Energize Updates and Instant Replacement Subscriptions need to be maintained for every Barracuda Product. All subscriptions are continuous and must start from the date of activation. Renewals purchases are continuous and start from the date of expiration of your current subscriptions. No exceptions.
Benefitis of Energize Updates:

Basic Support, which includes email support 24x7 and phone support between the hours of 9 a.m. and 5 p.m. Monday through Friday in the US (Pacific Time), Japan, China, Austria and the United Kingdom time zones.
Firmware Maintenance which includes new firmware updates with feature enhancements and bug fixes.
Security Updates to patch or repair any security vulnerabilities.
Optional participation in the Barracuda Early Release Firmware program.

Benefits of Instant Replacement:

Enhanced Support which provides phone and email support 24x7.
Data migration service for Barracuda Spam & Virus Firewalls. Barracuda Networks will assist movement of data and configuration from the old product to the new product if the old data is accessible.
Data recovery service for Barracuda Backup Servers. In the event of a disaster and upon request, Barracuda Networks will preload the most recent data and configuration stored by Barracuda Networks to the new product (note this may take additional time).
Hard Disk replacement on Barracuda Networks models that have swappable raid drives. Barracuda Networks will ship via standard shipping a hard disk replacement. Customer must return the failed hard disk to Barracuda Networks.