Barracuda WAF-as-a-Service
Protect every web app, hosted anywhere, in minutes

Barracuda WAF-as-a-Service
Barracuda WAF-as-a-Service Editions
Barracuda WAFaaS Business Edition 1 Year
#BWF-S001-BE-1M
List Price:
$5,173.32
Our Price: $4,914.65
Barracuda WAF-as-a-Service Enterprise Edition 1 Year
#BWF-S001-EE-1M
List Price:
$12,298.56
Our Price: $11,683.63
Barracuda WAF-as-a-Service Global Edition 1 Year
#BWF-S001-GE-1M
List Price:
$32,333.40
Our Price: $30,716.73
WAF-as-a-Service Licenses
Barracuda WAF-as-a-Service Application (1 App)
#BWFS001-APP-c
List Price:
$276.12
Our Price: $262.31
Click here to jump to more pricing!
Overview:
Complete application security does not have to be complicated.
Web applications are connected directly to your business and customer data. Attackers know this and have become increasingly clever with their attempts to bring down or compromise websites and apps. These attacks can be prevented, but organizations often struggle to implement a robust web application security posture due to several challenges:
Application security is complicated to deploy and manage without specialized resources.
Continuous updates to applications can lead to new vulnerabilities.
Legacy applications were developed without secure coding practices.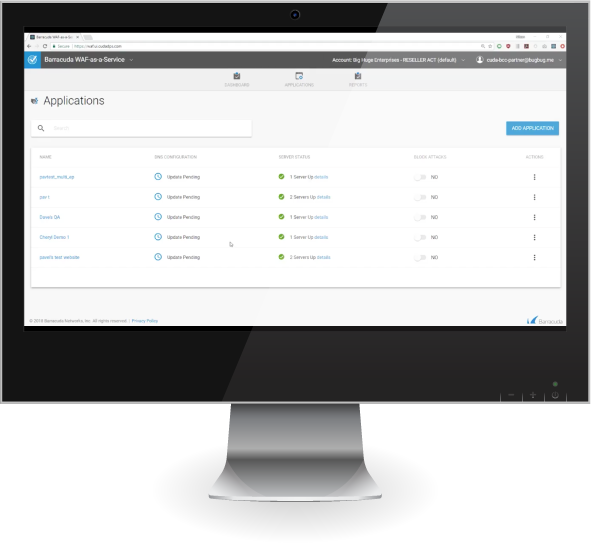 Why Barracuda WAF-as-a-Service?
Built on a proven security platform.
Enterprise-proven technology that provides comprehensive protection from all OWASP recognized security risks, DDoS attacks, and even the most advanced zero-day threats. Proactive bot defense ensures always-on protection from automated attacks, web scraping, and brute force attacks.
Simplified application security for everyone.
Remove the complexity of setting up and configuring your application security solution. Barracuda WAF-as-a-Service delivers protection for your web apps in minutes thanks to a simple 5-step setup wizard, and numerous pre-built security policy templates.
Complete control. Unlimited rulesets.
For more advanced users, Barracuda WAF-as-a-Service offers a level of control traditionally reserved only for on-premises and public cloud solutions. Fine-tune specific policies for each component of every application's security profile.
Automated vulnerability discovery and remediation.
Barracuda Vulnerability Remediation Service is built-in and provides automatic vulnerability detection and remediation which can be scheduled, ensuring ongoing protection without any administrative overhead.
Granular visibility with detailed logs and reports.
Gain rich insight into all web traffic events and users. Detailed compliance reports help you easily understand your security status at any given time by having complete visibility into all HTTP/S traffic.
Unmetered DDoS protection included.
DDoS attacks disrupt the service availability of your web apps which can have a significant impact on your business. Barracuda WAF-as-a-Service defends against the full spectrum of L3-L7 DDoS attacks ensuring the availability of your web apps.
Barracuda WAF-as-a-Service
Barracuda WAF-as-a-Service Editions
Barracuda WAFaaS Business Edition 1 Year
#BWF-S001-BE-1M
List Price:
$5,173.32
Our Price: $4,914.65
Barracuda WAFaaS Enterprise Edition 1 Year
#BWF-S001-EE-1M
List Price:
$12,298.56
Our Price: $11,683.63
Barracuda WAFaaS Global Edition 1 Year
#BWF-S001-GE-1M
List Price:
$32,333.40
Our Price: $30,716.73
Barracuda WAF-as-a-Service Licenses
Barracuda WAF-as-a-Service Application (1 App)
#BWFS001-APP-c
List Price:
$276.12
Our Price: $262.31
Barracuda Advanced Threat Protection - 25 Mbps
Barracuda WAF-as-a-Service Advanced Threat Protection Subscription 1 Year (25 Mbps Bandwidth)
#BWFS001a-a
List Price:
$1,836.48
Our Price: $1,744.66
Barracuda Advanced Threat Protection - 50 Mbps
Barracuda WAF-as-a-Service Advanced Threat Protection Subscription 1 Year (50 Mbps Bandwidth)
#BWFS001a-a
List Price:
$3,213.00
Our Price: $3,052.35
Barracuda Advanced Threat Protection - 75 Mbps
Barracuda WAF-as-a-Service Advanced Threat Protection Subscription 1 Year (75 Mbps Bandwidth)
#BWFS001a-a
List Price:
$4,479.36
Our Price: $4,255.39
Barracuda Advanced Threat Protection - 100 Mbps
Barracuda WAF-as-a-Service Advanced Threat Protection Subscription 1 Year (100 Mbps Bandwidth)
#BWFS001a-a
List Price:
$5,430.60
Our Price: $5,159.07
Barracuda Advanced Threat Protection - 250 Mbps
Barracuda WAF-as-a-Service Advanced Threat Protection Subscription 1 Year (250 Mbps Bandwidth)
#BWFS001a-a
List Price:
$9,166.56
Our Price: $8,708.23
Barracuda Advanced Threat Protection - 500 Mbps
Barracuda WAF-as-a-Service Advanced Threat Protection Subscription 1 Year (500 Mbps Bandwidth)
#BWFS001a-a
List Price:
$13,797.00
Our Price: $13,107.15
Barracuda Advanced Threat Protection - 1 Gbps
Barracuda WAF-as-a-Service Advanced Threat Protection Subscription 1 Year (1000 Mbps Bandwidth)
#BWFS001a-a
List Price:
$18,396.00
Our Price: $17,476.20
Barracuda Advanced Threat Protection - 5 Gbps
Barracuda WAF-as-a-Service Advanced Threat Protection Subscription 1 Year (5000 Mbps Bandwidth)
#BWFS001a-a
List Price:
$68,670.00
Our Price: $65,236.50
Barracuda Premium Support - 100 Mbps Bandwidth
Barracuda WAF-as-a-Service Premium Support Subscription 1 Year (100 Mbps Bandwidth)
#BWFS001a-p
List Price:
$5,430.60
Our Price: $5,159.07
Barracuda Premium Support - 250 Mbps Bandwidth
Barracuda WAF-as-a-Service Premium Support Subscription 1 Year (250 Mbps Bandwidth)
#BWFS001a-p
List Price:
$9,166.56
Our Price: $8,708.23
Barracuda Premium Support - 500 Mbps Bandwidth
Barracuda WAF-as-a-Service Premium Support Subscription 1 Year (500 Mbps Bandwidth)
#BWFS001a-p
List Price:
$13,797.00
Our Price: $13,107.15
Barracuda Premium Support - 1 Gbps Bandwidth
Barracuda WAF-as-a-Service Premium Support Subscription 1 Year (1000 Mbps Bandwidth)
#BWFS001a-p
List Price:
$18,396.00
Our Price: $17,476.20
Barracuda Premium Support - 5 Gbps Bandwidth
Barracuda WAF-as-a-Service Premium Support Subscription 1 Year (5000 Mbps Bandwidth)
#BWFS001a-p
List Price:
$68,670.00
Our Price: $65,236.50
Barracuda WAF-As-A-Service - 25 Mbps Bandwidth
Barracuda WAF-as-a-Service Bandwidth Subscription 1 Year (25 Mbps Bandwidth)
#BWFS001a-e
List Price:
$4,621.08
Our Price: $4,390.03
Barracuda WAF-As-A-Service - 50 Mbps Bandwidth
Barracuda WAF-as-a-Service Bandwidth Subscription 1 Year (50 Mbps Bandwidth)
#BWFS001a-e
List Price:
$8,089.20
Our Price: $7,684.74
Barracuda WAF-As-A-Service - 75 Mbps Bandwidth
Barracuda WAF-as-a-Service Bandwidth Subscription 1 Year (75 Mbps Bandwidth)
#BWFS001a-e
List Price:
$11,264.40
Our Price: $10,701.18
Barracuda WAF-As-A-Service - 100 Mbps Bandwidth
Barracuda WAF-as-a-Service Bandwidth Subscription 1 Year (100 Mbps Bandwidth)
#BWFS001a-e
List Price:
$13,860.00
Our Price: $13,167.00
Barracuda WAF-As-A-Service - 250 Mbps Bandwidth
Barracuda WAF-as-a-Service Bandwidth Subscription 1 Year (250 Mbps Bandwidth)
#BWFS001a-e
List Price:
$23,083.20
Our Price: $21,929.04
Barracuda WAF-As-A-Service - 500 Mbps Bandwidth
Barracuda WAF-as-a-Service Bandwidth Subscription 1 Year (500 Mbps Bandwidth)
#BWFS001a-e
List Price:
$34,650.00
Our Price: $32,917.50
Barracuda WAF-As-A-Service - 1 Gbps Bandwidth
Barracuda WAF-as-a-Service Bandwidth Subscription 1 Year (1000 Mbps Bandwidth)
#BWFS001a-e
List Price:
$46,242.00
Our Price: $43,929.90
Barracuda WAF-As-A-Service - 5 Gbps Bandwidth
Barracuda WAF-as-a-Service Bandwidth Subscription 1 Year (5000 Mbps Bandwidth)
#BWFS001a-e
List Price:
$173,250.00
Our Price: $164,587.50
Barracuda WAF-as-a-Service (Bandwidth) Advanced Bot Protection Subscriptions
Barracuda WAF-as-a-Service (Bandwidth) Advanced Bot Protection Subscription 1 Year (25 Mbps Bandwidth)
#BWFS001a-b
List Price:
$1,615.92
Our Price: $1,535.12
Barracuda WAF-as-a-Service (Bandwidth) Advanced Bot Protection Subscription 1 Year (50 Mbps Bandwidth)
#BWFS001a-b
List Price:
$2,828.76
Our Price: $2,687.32
Barracuda WAF-as-a-Service (Bandwidth) Advanced Bot Protection Subscription 1 Year (75 Mbps Bandwidth)
#BWFS001a-b
List Price:
$3,940.68
Our Price: $3,743.65
Barracuda WAF-as-a-Service (Bandwidth) Advanced Bot Protection Subscription 1 Year (100 Mbps Bandwidth)
#BWFS001a-b
List Price:
$4,851.00
Our Price: $4,608.45
Barracuda WAF-as-a-Service (Bandwidth) Advanced Bot Protection Subscription 1 Year (250 Mbps Bandwidth)
#BWFS001a-b
List Price:
$8,096.28
Our Price: $7,691.47
Barracuda WAF-as-a-Service (Bandwidth) Advanced Bot Protection Subscription 1 Year (500 Mbps Bandwidth)
#BWFS001a-b
List Price:
$12,096.00
Our Price: $11,491.20
Barracuda WAF-as-a-Service (Bandwidth) Advanced Bot Protection Subscription 1 Year (1000 Mbps Bandwidth)
#BWFS001a-b
List Price:
$16,128.00
Our Price: $15,321.60
Barracuda WAF-as-a-Service (Bandwidth) Advanced Bot Protection Subscription 1 Year (5000 Mbps Bandwidth)
#BWFS001a-b
List Price:
$60,480.00
Our Price: $57,456.00