VIAAS Vari-focal Dome Network Camera

Simple, Intelligent Surveillance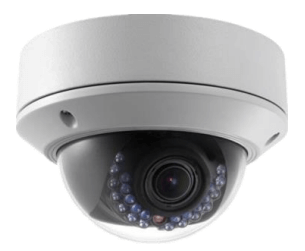 Sorry, this product is no longer available, please contact us for a replacement.
Overview:
The Simplest Way to Protect Your Most Important Assets
VIAAS is a complete cloud-based video surveillance solution that captures high quality video images in almost any situation and records to VIAAS's secure cloud. The video is automatically encrypted and can be viewed from any web browser or mobile device.

Plug a VIAAS camera in, and it automatically connects to the service and starts working - without network or camera configuration. With no special hardware or software to install, VIAAS is the fastest and simplest path to on-premises security.
Monitor Unlimited Sites from the Cloud
With no limits on cameras, locations or users, VIAAS allows you to deploy surveillance seamlessly at one or many sites at a pace that meets your needs. There are no channel or cloud data storage limits. Multi-site, multi-user surveillance is managed through a single web-based user interface.
Includes cameras, mounts, online video storage
Zero-configuration: Just plug the cameras into any broadband Internet connection
Video is encrypted before it's sent to the cloud
View video from any web browser or mobile device
Feature-Rich Motion-Sensitive IP Cameras Automatically Capture Only What Is Important
VIAAS cameras record video only when something happens and ignore hours of nothing. For each video segment, motion tracking captures key images. The images show you what the video segment is about without even watching the video. We call the combination an IntelEvent™, which is one of many unique VIAAS advantages.
IntelEvents™ make VIAAS fast and easy to use even over low bandwidth connections. You find what you are looking for by scanning the images. When you have narrowed your selection, you view the video with a single click.
Capture High Quality Images in Any Lighting - Even in the Dark
VIAAS cameras deliver great images in almost any situation. The ultra-wide dynamic range sensor provides great images in even the toughest day time lighting situations.
A built-in IR Exchanger and B&W extended exposure night mode provides solid low light performance. With an external IR Illuminator, VIAAS cameras can see in the dark. More importantly, VIAAS cameras are an integral part of the VIAAS service so you get real value from the video, not hours of wasted time.
Easy to Use and Affordable
VIAAS is not only affordable to purchase, it is affordable to own. To minimize future upgrade costs, VIAAS remotely manages and updates the cameras with ActiveSoftware so your camera is always up to date.
Network bandwidth can be a significant, hidden cost to owning video surveillance systems. VIAAS utilizes patented Bandwidth Shaping™ to run on remarkably little bandwidth. VIAAS cameras are easy on your network when you need it. They initially encrypt and store recorded events in the camera and then move those events to the Cloud service at a rate and schedule that you set based on your network needs.