Rackmount kits for Barracuda products
Typical features of Rackmount kit products are:
Easy 5-minute assembly in a 19 inch rack.
Network connections on the front of the panel.
Prevention of accidental loss of power.
All kits will be delivered including assembly materials.
Assembly will take about 5 minutes. Simply slide your Barracuda device in the kit, place the retainers, connect the supplied cables to the keystones and fix the power supply to the rack.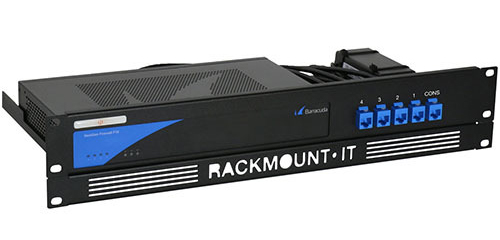 The RM-BC-T1 is a member of the Rackmount.IT product line. This firewall kit allows you to easily mount your Barracuda appliance to your 19 inch server rack. Quick installation, front facing network connections, and a fixated power supply are a few of the great features of this product. Supports the Barracuda X50, X100, X200, F18, F80 models. This unit will take up to 1.3U, but we just call it 2U.
#RM-BC-T1
List Price: $139.00
Our Price: $134.00