CudaCam 720p Dome IP Camera

Simple, Intelligent Surveillance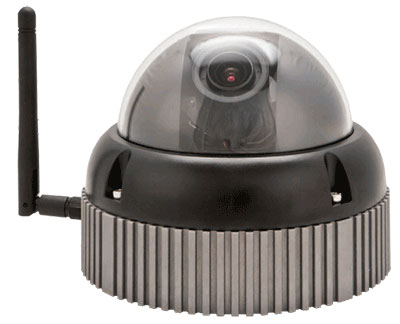 Sorry, this product is no longer available, please contact us for a replacement.
CudaCam Overview:
CudaCam is an intuitive, multi-site surveillance solution with encrypted hybrid edge-cloud storage that can be accessed using most modern browsers and mobile devices. CudaCam enables users to easily view live and recorded video. The CudaCam user interface includes the patented IntelEvent which simplifies detecting and investigating events.
The Simplest Way to Protect Your Most Important Assets
CudaCam is a complete cloud-based video surveillance solution that captures high quality video images in almost any situation and records to Barracuda's secure cloud. The video is automatically encrypted and can be viewed from any web browser or mobile device.


No Software, DVR, NVR or Headaches!
Plug a CudaCam camera in, and it automatically connects to the service and starts working – without network or camera configuration. With no special hardware or software to install, CudaCam is the fastest and simplest path to on-premises security.
Monitor Unlimited Sites from the Cloud
With no limits on cameras, locations or users, CudaCam allows you to deploy surveillance seamlessly at one or many sites at a pace that meets your needs. There are no channel or cloud data storage limits. Multi-site, multi-user surveillance is managed through a single web-based user interface.
Includes cameras, mounts, online video storage
Zero-configuration: Just plug the cameras into any broadband Internet connection
Video is encrypted before it's sent to the cloud
View video from any web browser or mobile device
Falcon Dome IP Camera Key Features:
Bandwidth Shaping for dynamic network utilization
Hybrid edge-cloud storage and playback
Live streaming on demand
Configurable advanced motion detection
IntelEvent captures based on intelligent object tracking
Selectable cature modes
Microphone input
Vido/Images encrypted at the camera
RGB LED status indcator
Weather resistant (IP64)
Made in the USA
Reliable and Secure
CudaCam provides a secure, redundant cloud infrastructure with its hybrid edge-cloud access and storage solution. Video is encrypted by the camera prior to transmission to the CudaCam cloud servers and remains encrypted during storage on fully redundant servers. If internet connectivity is lost at the CudaCam camera location, encrypted video is stored on the local microSD card until the connection is restored.
Feature-rich, Simple-to-use
Designed for organizations of all sizes, CudaCam offers feature rich cameras and service plans for a single site or hundreds of sites. To accommodate growing storage requirements, tagging and labeling are offered to provide faster access of longterm stored video. Challenging recording requirements are met using event scheduling and the masking of motion in the field of view. To satisfy the demands of a large, diverse user base, role-based access enables administrators to limit features and access based on login accounts.
No configuration is required to start viewing and recording video. Once the CudaCam camera connects to a network with internet access, the camera automatically and securely connects to the CudaCam servers, updates any available firmware, and configures the camera to the administrator account. CudaCam management and monitoring include automatic email alerts for motion events and changes in network status, weekly activity reports, and bandwidth management to avoid conflicts with typical peak network usage hours.
CudaCam cameras provide flexible access from the CudaCam iPhone app and from most browsers, including mobile browsers. CudaCam IntelEvent reduces the burden of real-time monitoring cameras using motion and activity alerts. In addition to intelligent archiving of tagged video, IntelEvent simplifies search and investigation of events. From casual users to law enforcement professionals, CudaCam enables users to effectively monitor and investigate activity with surveillance cameras.