Barracuda Backup Vx Virtual Appliance

Easy Cloud-Connected Backup
Click here to jump to more pricing!
Barracuda Backup Overview:
Barracuda Backup is the unified, cost-effective data protection solution for your physical, virtual, and SaaS environments: A complete backup solution with remote storage that is easy to buy, install, and manage.
The Barracuda Advantage
Virtual backup appliance that can be deployed in virtual environments to leverage existing infrastructures.
Simple per-socket or per-server pricing.
Backup software and integrated remote replication.
Cloud-based central management for seamless multisite administration.
Rapid local or remote recovery, preventing data loss and minimizing down time.
Product Spotlight
Built-in cloud and site-to-site replication prevent data loss in case of disaster.
LiveBoot and Cloud LiveBoot enable rapid recovery of VMware and Microsoft Hyper-V virtual machines in minutes.
Offsite vaulting of historical revisions frees up valuable space on local storage.
Optimizes storage and bandwidth requirements with compression and deduplication
Scalable performance means you can easily add more resources to enable more simultaneous backup processes
Physical and Virtual

Most businesses today have a mixed environment of physical and virtual servers. Barracuda Backup Vx is a single solution that protects physical servers and virtual machines (VMware & Hyper-V) with snapshot and granular file recovery—all with unified management for replication and retention.

Virtual Appliance

Barracuda Backup Vx can be deployed in virtual environments to leverage all your existing compute and storage infrastructures, while optimizing local storage and bandwidth requirements.

Flexible Deployment

Barracuda Cloud Storage, Cloud Control and Cloud LiveBoot recovery allow simple remote replication, seamless multisite administration, and rapid access to virtual machines during site disasters. Site-to-site replication and Local LiveBoot recovery allow complete protection for those operating in private environments or deploying private cloud technologies.
Streamline Backup with Integrated Software, Appliance, and Cloud for Storage Efficiency and Fast Restores
Barracuda Backup is a unified, cost-effective data protection solution for protecting physical, virtual, and SaaS environments. Simple to deploy and easy to manage, Barracuda Backup supports scalable retention and offsite disaster recovery to the Barracuda Cloud with Unlimited Cloud Storage or between sites for private replication.
With an extensive range of supported environments and integration with CudaDrive cloud file services to provide end-user access in a disaster, organizations can replace multi-vendor solutions with Barracuda Backup. Barracuda Backup can be deployed as a purpose built backup appliance or a virtual appliance for organizations that prefer to use existing hardware.
Protect your SaaS and Cloud-hosted Environments
SaaS is a great option for companies wanting highly scalable and redundant architectures to mitigate natural and mechanical failures, however there are inherent risks associated with cloud-hosted data. Human-caused data loss – be it intentional or accidental still exists as data can still be permanently deleted from cloud applications. Barracuda Cloud-to-Cloud Backup protects businesses against data loss and accidental deletion in Microsoft Office 365.
Available as either a standalone service or as a part of your Barracuda Backup solution, Cloud-to-Cloud Backup for Microsoft Office 365 is included for the first year at no additional charge for new and existing customers with subscriptions to Barracuda Backup Unlimited Cloud Storage or Backup-as-a-Subscription Service.
Barracuda Backup Vx has built-in cloud and site-to-site replication.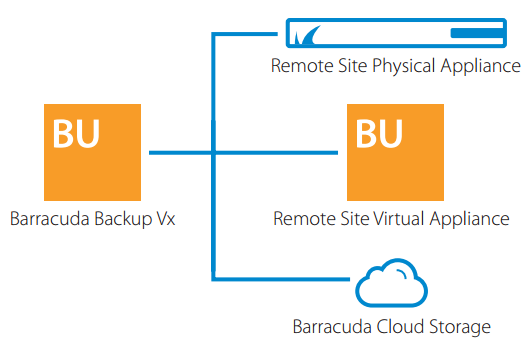 Pricing Notes:
Please Note: Energize Updates and Instant Replacement Subscriptions need to be maintained for every Barracuda Product. All subscriptions are continuous and must start from the date of activation. Renewals purchases are continuous and start from the date of expiration of your current subscriptions. No exceptions.
Benefitis of Energize Updates:

Basic Support, which includes email support 24x7 and phone support between the hours of 9 a.m. and 5 p.m. Monday through Friday in the US (Pacific Time), Japan, China, Austria and the United Kingdom time zones.
Firmware Maintenance which includes new firmware updates with feature enhancements and bug fixes.
Security Updates to patch or repair any security vulnerabilities.
Optional participation in the Barracuda Early Release Firmware program.

Benefits of Instant Replacement:

Enhanced Support which provides phone and email support 24x7.
Data migration service for Barracuda Spam & Virus Firewalls. Barracuda Networks will assist movement of data and configuration from the old product to the new product if the old data is accessible.
Data recovery service for Barracuda Backup Servers. In the event of a disaster and upon request, Barracuda Networks will preload the most recent data and configuration stored by Barracuda Networks to the new product (note this may take additional time).
Hard Disk replacement on Barracuda Networks models that have swappable raid drives. Barracuda Networks will ship via standard shipping a hard disk replacement. Customer must return the failed hard disk to Barracuda Networks.
Barracuda Products
Backup Vx License
Barracuda Backup Vx Virtual License (Sockets) 1 Year
#BBSV90a-k
List Price:
$960.00
Our Price: $912.00
Backup Vx Cloud Storage
Barracuda Backup Vx Virtual License Replication to AWS Subscription 1 Year
#BBSV90a-xa
List Price:
$190.80
Our Price: $181.26
AWS Replication for Barracuda Backup Vx
Barracuda Backup Virtual License TB Cloud Storage Subscription
#BBSV90a-b
List Price:
$1,440.00
Our Price: $1,368.00