Barracuda SSL-VPN 380 Vx Virtual Appliance

Remote, Authenticated Access to Applications and Data
Overview:
Barracuda SSL VPN Vx is a virtual appliance providing secure, clientless remote access to internal network resources from any Web browser. It is ideally suited for organizations that are standardizing hardware platforms or deploying virtual environments and provides the same powerful technology, comprehensive features and ease of use found in the Barracuda SSL VPN hardware appliance.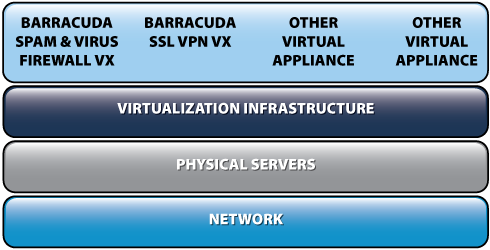 Technology
Designed for remote employees and road warriors, the Barracuda SSL VPN Vx provides comprehensive control over file systems and Web-based applications requiring external access. The Barracuda SSL VPN integrates with third-party authentication mechanisms to control user access levels and to provide Single Sign-On.
Enables access to corporate intranets, file systems or other Web-based applications
Tracks resource access through auditing and reporting facilities
Scans uploaded files for viruses and malware
Leverages multi-factor, layered authentication mechanisms, including RSA SecurID and VASCO tokens
Integrates with existing Active Directory and LDAP directories
Utilizes policies for granular access control framework
Supports any Web browser on PC or Mac
Easy-to-use, secure network access for business travelers, remote workers, and mobile users
Your army of road warriors and remote workers require a quick, flexible, reliable Application Delivery and completely secure way to connect to your internal enterprise applications, information and network resources. They want to do this from anywhere in the world, at any time and from any suitable device. The Barracuda SSL VPN Vx provides the security and connectivity to deliver this access, via a web browser or virtually any mobile device.
The Barracuda Advantage
No per-user fees
Easy to use
Easy to deploy
Added security with built-in virus scanning
Anytime, anywhere access
Product Spotlight
Simple remote-worker access to corporate applications and data
Fast and secure access from virtually any mobile device
Remote access to MS Exchange, MS SharePoint, and Windows File Shares
Simple mobile device configuration, ideal for BYODs
Powerful two-factor authentication options
Easy as Opening a Web Browser

The Barracuda SSL VPN Vx makes it easy for remote users to access internal applications and files. Unlike traditional VPN technologies, the Barracuda SSL VPN does not require any additional client software or complicated settings. Logging in from home or the road requires only a web browser and Internet connection. Upon login, users are presented with a portal of internal web applications or file shares. More advanced applications like Remote Desktop Services or Citrix XenApp are available to users running Java.

Comprehensive Authentication

Administrators have complete control over user access with the option of further securing resources with secondary authentication. Possibilities include sending one-time passcodes to mobile phones (including Google Authenticator), prompting with security questions, or integrating with advanced authentication systems like hardware tokens, RADIUS, and other additional security methods. Risk Based Authentication allows the use of extra authentication for high risk applications.

Comfort in a secure network

The Barracuda SSL VPN Vx provides extra security layers, including the ability to reverse-proxy Exchange ActiveSync traffic to keep Windows servers safely inside the network perimeter. Integrated antivirus protection secures file uploads to keep malware out of the network. Built on a hardened platform, the Barracuda SSL VPN Vx is the ideal replacement for traditional software-based remote access gateways.