Barracuda CloudGen Firewall F-Series for Internet of Things

Scalable Security for Internet of Things and Machine-to-Machine Connectivity

With the advent of the Internet of Things and the Fourth Industrial Revolution, companies of all sizes now face new requirements on how to keep thousands of remote devices as well as very small offices safe and secure. The Barracuda CloudGen Firewall S-Series is the perfect fit for cost effective connectivity and hassle free centralized management for several hundred to tens of thousands of remote locations. The S-Series focuses on providing simple, secure and scalable remote connectivity for Internet of Things including remote devices, kiosks, ATM machines and micro-offices.
What are the differences among the F-Series, S Series and X-Series firewalls?
The Barracuda CloudGen Firewall F-Series is designed for network engineers who manage distributed enterprise environments. It provides all the security functionality one expects from an enterprise next-generation firewall, including application detection and prioritization, IPS, malware protection, URL filter and even DDoS protection. Furthermore, its powerful traffic optimization features, extremely resilient site-to-site connectivity capabilities, and extensive logging and auditing tools make the F-series an ideal fit for organizations that need to efficiently manage and scale massive firewall deployments.
The Barracuda CloudGen Firewall S-Series provides remote connectivity in an affordable and easy to deploy solution. It is designed from the ground up to support Internet of Things initiatives where thousands of remote devices need to be connected to a headquarters or data center. The SC appliances are managed via a NextGen Control Center, and security features like IPS, application detection etc. are provided at the Secure Access Concentrator where the VPN for each SC appliance terminates.
The Barracuda CloudGen Firewall X-Series is ideal for small to medium-sized organizations looking for a simple, yet powerful next-generation firewall that provides IPS, application detection, URL filter, malware protection and some basic email security. Designed for the resource-constrained IT professional, the X-Series' intuitive web interface has a low learning curve while providing and easy-to-use management interface.

Barracuda CloudGen Firewall S-Series Appliances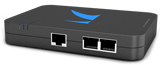 300 Mbps Firewall throughput
80 Mbps WiFi AP mode throughput
30 Mbps WiFi Client mode throughput
30 Mbps VPN throughput
Barracuda CloudGen Firewall S-Series Virtual Appliances

Unlimited IPs
2 CPU Cores Allowed
500 Max. VPN Connections
1 GB Firewall & VPN Throughput

Unlimited IPs
4 CPU Cores Allowed
1,200 Max. VPN Connections
2 GB Firewall & VPN Throughput

Unlimited IPs
8 CPU Cores Allowed
2,500 Max. VPN Connections
4 GB Firewall & VPN Throughput